CHECK OUT OUR MOVIE SMOOTHIE
MATINÉE SERIES!
Next up, 1 pm, March 16: A teenager's faces a major struggle and finds new purpose in life in
A Greater Yes, The Amy Newhouse Story
(2008) by Pureflix Films. Be sure to bring your family and friends! Our matinee series are on the third Sundays at 1pm, and come with FREE healthy fruit smoothies and fresh popcorn! Its wholesome Christ-centered entertainment. Most movies in our series are appropriate audiences 12 and older. A movie for young children will be set up in a nearby room if needed/requested. Some dates and/or showings may be subjected to change, so check back often or call our office for the latest.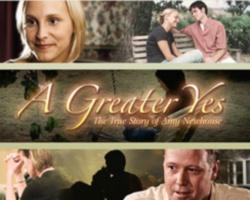 The series for 2014 will be as follows:
NEXT UP!!! Feb 16 - Marriage Retreat (2011) Pureflix Films
March 2014 - A Greater Yes, The Amy Newhouse Story
April 2014 - Faith Like Potatoes

May 2014 - Me Again

June 2014 - Measure of a Man